« writing to recover painting»
Art historian, essayist, writer.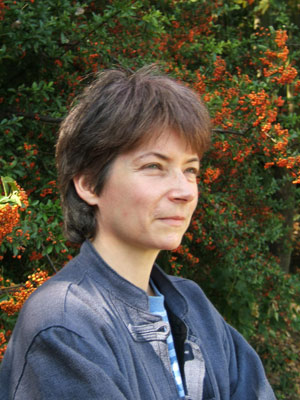 Born in Suresnes, West of Paris. Attracted very young by painting, literature with Paul Féval's narratives, then by cinema after seeing Jean Cocteau's Orphée… All her pocket money goes into art books, canvases and paint tubes…
« When Christine Sourgins wants to enter the Beaux Arts school in 1980, she gives up after noting that teaching is purely conceptual there. This is contrary to her vocation. Instead, she studies history and art history at the Sorbonne, along with the École du Louvre where museology grabs her interest. After graduating, she becomes a lecturer (in the Louvre and in the museums of the city of Paris for the pedagogical services";». (excerpt from Aude de Kerros's book "Hidden Art – The dissidents of Contemporary art", Eyrolles, 2007, page 214.)
She thus exchanges the brush for the quill and leaves museums to become a cultural attaché in associative circles. This function, which does not depend on the ministry of Culture, guarantees her intellectual independence. She then observes every day the predicament of artists and art lovers in France.
She specialized in the criticism of contemporary Art and its philosophical, social or religious impacts.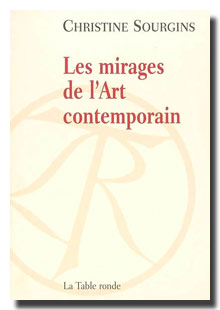 Published :
Les mirages de l'Art contemporain (The mirages of Contemporary art), LaTable Ronde (2005), the object of an award by the Academy of Education and social Studies. It is now in its fifth republication.
Numerous articles in academic periodicals (Commentaire, Conflits actuels, Liberté politique, Ecritique, Catholica, Képhas etc.) and art magazines (Artension…).
Belongs to the editorial board of the periodical Commentaire and Ecritique
Latest publications
"Beauty in contemporain art" in "Beauty, art and men, emergence of sense of Aesthetics", directed by Henry de Lumley, édition du CNRS,2014.
Chapter X "The life and death of artistic manifestos", in "Démocratie et révolution, cent manifestes de 1789 à nos jours" (Democracy and revolution ¬– a hundred manifestos from 1789 to the present", under the direction of Stéphane Courtois, Jean-Pierre Deschodt and Yolène Dilas-Rocherieux, Presses universitaires de l'ICES, Cerf, 2012.
"Art ou Mystification – Huit Essais" ("Art or Mystification – Eight Essays", Russkiy Mir, 2012 (bilingual; French, Russian), with contributions by Jean Clair, Marc Fumaroli, Jean Philippe Domecq, Boris Lejeune, Kostas Mavrakis, Jean Louis Harouel, Aude de Kerros and Christine Sourgins.
She has been running a blog since 2009: ; every Tuesday, she writes the newsletter "The Grain of salt".
Delivers lectures in Art history for the benefit of the non-profit cultural organization Cap Aristée.
Having received from the Consul General the Patagonian citizenship ; coordinator of the "Imaginary Museum of Patagonia".