Jean Raspail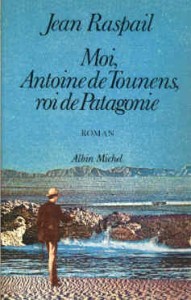 ---
Jean Raspail explored Patagonia in the 1950's and wrote "Le Jeu du Roi" ("the King's Game") where he imagines a successor to Orélie-Antoine de Tounens. In 1981, he published the novel « Moi, Antoine de Tounens, roi de Patagonie » (I, Antoine de Tounens, king of Patagonia"). His readers got involved in this game, sending in so much correspondence that he decided to open in his home in Provence a consulate-general of Patagonia. "Antoine de Tounens's blue, white and green flag is floating on my balcony. I could not do without it. In a time deprived of symbols, I consider it, deployed in the mistral wind, with tenderness, irony, pride, and melancholy; to be a Patagonian is to put up with these four feelings".
Le Figaro, November 6, 1981, Jean Raspail, "Moi, Consul Général de Patagonie".
Jean Raspail has imagined a subtle way of being "papagon" and Patagonia becomes what one could call as an oxymaron :"a serious game".
The Kingdom of Patagonia appears regularly in literary or theatrical works. In 1986, a production by Michèle Venard at the Théâtre de la Gare in Paris gave another vision of Orélie de Tounens's adventure.
Le Roi de Patagonie ou Antoine cousu d'enfant
(The King of Patagonia or Antoine woven with childhood memories),
by Michèle Venard and Jean-Michel Guillery
« A formidable fable on power: Antoine de Tounens is theatrical by the grandiloquence and unreality of his madness; he is childish by its puerile and naive side. Alternately inspired and arrogant, down and out and torn, this true/false King has a Shakespearean hysteria (…). Imbued with a special force, he speaks about his land as a Kingdom; a kingdom that may in fact not pertain to this world.
This puerility of dreaming of himself in Christ-like traits has been characterized in the play by Michèle Venard as a doppelganger child of Antoine de Tounens (…). This is the childhood of de Tounens, and also the childhood of the world, over which he is scheming to reign; and also, probably (but it would be a superfluous explanatory key), the primeval; archangelic power before the Fall. De Tounens seems to dream of a power before sin – which contradicts the very terms of Christianity."
(Excerpt from Michel Surya's review)